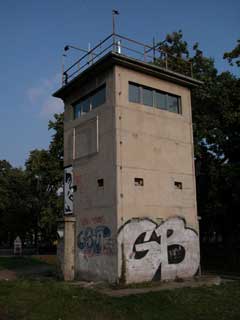 Click on the image to enlarge

"Could you tell me where The Berlin Wall used to be?"

This is a often raised question in contemporary Berlin, a city with a turbulent past as no other European city, where the influences of history have left their mark. This history is legible on almost every street corner and the remains of the past define Berlin even today.
The border which formed a barrier between East and West for twenty-eight years forms an important part of Berlin's history. The remnants of The Berlin Wall are the witnesses, not only of a divided city but also of a divided Europe, of the divided world. But for how long? After the Wall fell, almost no traces are left from the border, the fortifications or the watchtowers. Today the former borderstrip is hardly recognisable. However more and more people realise the historical value of the Wall-traces, as the last remaining fragments disappear rapidly from the quickly changing Berlin's urban scene.

These traces are being investigated and collected in the extensive website project on www.berlinermauerspuren.de. 'Berlinermauerspuren', started in 2001 and since then it has developed into a project in progress in which the former border is researched almost permanently.

Along the border, a number of official Wall-related institutions can be defined. Starting from Bornholmer Straße one follows the former border and passes the Gedenkstätte and Documentationcenter at Bernauer Straße, the Litfin memorial in the tower at Kieler Straße, Haus am Checkpoint Charlie at Friedrich Straße and the East Side Gallery at Mühlen Straße. Each site covers a particular part of the history. However, none of these cover the situation of The Wall nowadays, such as 'Berlinermauerspuren'.

This proposal is meant for the future use of the tower at Schlesischen Busch/am Treptower Park, Berlin. Berlinermauerspuren project space, aims for a permanent public site of exhibition, events and research, dedicated to the historical and geographical aspects of the tower and the borderarea. With the opportunity on hands with the re-opening of the tower in Treptow, the Berlinermauerspuren project space can be seen as an important new site to be added to the memory landscape of The Wall in contemporary Berlin.

This on-line proposal consists of written and visual material for the project proposal along with additional visual material on the subject. Further information will be sent on request.

© Ronald klein Tank | Berlinermauerspuren, 2004.