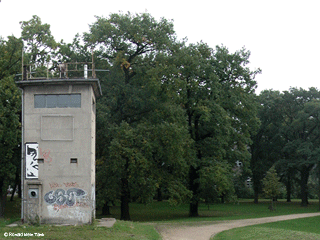 Click on the image for the enlarged visual proposal

Proposal for the future use of the tower at Schlesischen Busch/am Treptower Park, Berlin.

'Berlinermauerspuren' is dedicated to register all changes is Berlin regarding The Wall. On www.berlinermauerspuren.de, the webproject in progress is permanent on-line accessible. Besides this, it is important to offer the public an off-line opportunity to view the project. Today a unique opportunity lays in the fact that the Bezirk Treptow-Köpenick is looking for a new use for the tower at Schlesischen Busch/am Treptower park.

Berlinermauerspuren project space, aims for a permanent public site of exhibition, events and research, dedicated to the historical and geographical aspects of the building and it's surroundings. With the opportunity on hands with the re-opening of the tower in Treptow, the Berlinermauerspuren project space can be seen as an important new site to be added to the memory landscape of The Wall in contemporary Berlin.

Berlinermauerspuren project space could be developed into an inspiring site specific exhibition space, addressing the historical facts of the area and the building in the following stages:

The ground floor, where the entrance area and shop will be located. Storage can be found in the cellar.
The first floor with room for changing exhibitions, by interdisciplinary professionals in the field of photography, art, science, literature and film. The exhibitions will all be dedicated to the traces of the Berlin Wall and related issues.
And finally the second floor where the observation area will be formed. In the context of the view over the historical former border area, some computers will be placed here with the on-line web-project.

The project can be financed with aid from private and commercial sponsors, the city of Berlin, the European Union, and several art foundations in The Netherlands and abroad.

This on-line proposal consists of written and visual material for the project proposal along with additional visual material on the subject. Further information will be sent on request.

© Ronald klein Tank | Berlinermauerspuren, 2004.